Dr. Stan Satterfield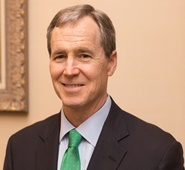 Dr. Stanley D. Satterfield, Oral and Maxillo- Facial Surgeon, has been in private practice in Athens, Georgia since July, 1981. He is a native of Athens and the son of the late Dr. E. Wayne Satterfield (a well-known dentist and sports figure). His mother, the late Bobbie Satterfield McDonald was a life-long resident of Athens. Dr. Satterfield received his undergraduate education at the University of Georgia and his D.M.D. degree from the Dental College of Georgia at Augusta University. He completed his internship and residency in Oral and Maxillo-Facial Surgery at the Medical College of Virginia (VCU).
Dr. Satterfield graduated first in his Dental School class and was selected into OKU, the national dental honor society. He is a Diplomate of the American Board of Oral and Maxillo-Facial Surgery (board certified) and the International Congress of Oral Implantology. In addition, Dr. Satterfield is a Fellow of the American Association of Oral and Maxillo-Facial Surgeons and The American College of Oral and Maxillo-Facial Surgeons. He has also published articles in professional journals. Dr. Satterfield is the inventor of a surgical instrument fabricated by Walter Lorenz, Inc. He has held leadership positions in the Clarke County Dental Society and the Georgia Society of Oral & Maxillo-Facial Surgeons. Dr. Satterfield is also the team oral surgeon for the University of Georgia athletic program.
Dr. Satterfield began teaching Bible studies in 1981 and became a deacon in 1983. He is a member of Prince Avenue Baptist Church. He has also served on the Board of Directors of the UGA Fellowship of Christian Athletes and the Athens YMCA (past President). He has volunteered and served on the Board of Directors of the Mercy Health Center since 2001. He along with Office Manager Kellie England, started the Challenger Division of the Athens Little League program for special children in 1991. In addition, he coached Little League for eleven years and served on the Board of Directors.
Dr. Satterfield is married to the former Tracey Lynn Dow of Virginia Beach, Virginia. Tracey is a wonderful homemaker and decorator. They have three daughters and two sons and seven grandchildren. The family calls Athens, Georgia home.
The Staff
We are very proud of our team:
Tess Bray, RN; India Coker, NREMT-P; Kathy DePriest, Front Desk Coordinator; Grant Eichenlaub, NREMT-P; Kellie England, Office Administrator; Mandy Phillips, Financial Coordinator; Brad Tucker, NREMT-P.